With Roger Jahnke, OMD
Director, The Institute of Integral Qigong and Tai Chi
Doctor of Acupuncture and Oriental Medicine
Author of The Healer Within and The Healing Promise of Qi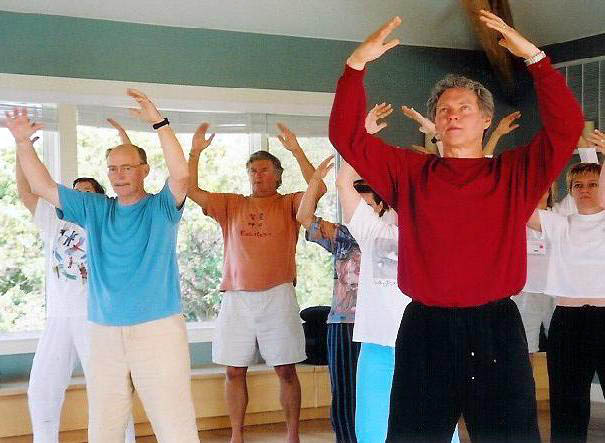 Workshop at The Crossings, Austin, TX November 2004 [Photo by Thomas Wittenberg]
THIS IS A SPECIAL OPPORTUNITY FOR:
Those seeking certification to share Tai Chi in their communities.
Those wishing to continue in the process toward full 200 hour certification as a professional Integral Qigong and Tai Chi Teacher.
Those who know they would benefit from 7 days of immersion in Qi cultivation as a personal retreat, even if not seeking certification to teach.
Testimonials:
"Literally the best money I have ever spent!" -- Doreen Black, M.T., Hinsdale, MA"
"An amazing transformation as I transition to my new career in the Wellness Revolution." -- Arthur Aronson, J.D. Attorney, New York, NY
The Perfect Retreat Location -- Sunrise Ranch Conference and Retreat Center, Loveland, Colorado:

Sunrise Ranch has been referred to as a "womb with a view", because of the nurturing atmosphere that permeates this peaceful valley in the foothills of the Colorado Rocky Mountains. Sunrise Ranch was founded over 50 years ago as a way of demonstrating practical spirituality and as international headquarters for the Emissary Program. A nonprofit organization founded in 1932 by Lloyd Meeker, the Emissaries of Divine Light compose a network of people whose primary purpose is to encourage the experience and expression of divine identity.

Spacious landscapes, intimate communion with wildlife and fifty years of organic land stewardship makes Sunrise Ranch one of the most unique conference and retreat settings in North America. A sense of safety, respect and peace permeates the very palpable atmosphere in this place. The deer in the field at dusk or the red-tailed hawk overhead seem to confirm this sense of ease. A repeated comment from conference guests and facilitators has been that, because of the sustained atmosphere Sunrise carries, they are able to "get right to work" at our first session and do not have to spend the same amount of time building a container or sense of space that is required at other venues.
About the Level 2 - Institute of Integral Qigong and Tai Chi (IIQTC) Integral Tai Chi Facilitator Training
Tai Chi is a moving form of Qigong that can be done as a martial art or for health. There are many long forms that can take years to learn. In order to make the health benefits of Tai Chi more readily accessible to diverse populations, shortened and simplified versions of it are being created. Health benefits include stress reduction, greater balance and increased flexibility — especially for older adults.
Integral Tai Chi ™ is not simply a Tai Chi form, but a Tai Chi teaching method that is assured to sustain student enthusiasm. In the Integral Tai Chi™ framework we work with Tai Chi Qigong, a simplified approach in which the complexity of the footwork is postponed for ease of learning. Followed by Tai Chi Easy ™, Tai Chi Chair ™ and Tai Chi Mirror ™, these carefully simplified forms of Tai Chi are designed to create the maximum positive effect. The traditional principles of Tai Chi and Qigong are the heart of the Integral Tai Chi ™ program.
Level 2 is primarily focused on Tai Chi and reviewing the material for Level 1. Review will include: practices distilled from the Vitality Medical Qigong Method (Bu Zheng Qigong) in The Healer Within; the Ten Phases of Cultivation and Mastery from the The Healing Promise of Qi; Tendon Changing; Marrow Bathing; Seven Precious Gestures; Spontaneous Qigong;introduction to Nei Dan (Inner Alchemy); and transmitting Qi (Wai Gong) and Qigong Healing.
The Institute of Integral Qigong and Tai Chi (IIQTC) now has graduates throughout the US, Canada, Europe and Central America, inspired and committed to bringing Qigong and Tai Chi to a broader audience. Whether you use this training as a career shift or as a personal retreat to improve your health, vitality and inner peace, this event will be a profound opportunity to immerse yourself in healing and actualize your personal mission of community service. You will renew your body, mind and spirit like the ancient Qi masters of China where Qi cultivation was born.
Tuition, Lodging and Meals Fee Plan
| | | |
| --- | --- | --- |
| Room Option | Before 02/14/2007 | After 02/14/2007 |
| Single Lodging | $1845 | $1935 |
| Double Lodging | $1635 | $1715 |
| Triple Lodging | $1565 | $1620 |
| Dormitory Lodging | $1515 | $1565 |
| Camping | $1397 | $1422 |
| Commuter | $1350 | $1375 |
Fees include:
Tuition for Institute of Integral Qigong and Tai Chi (IIQTC) Level 2 Integral Tai Chi Facilitator Training, 7 nights lodging (unless Commuter), meals, break refreshments, and on site training materials. Commuter fees include Level 2 Certification Training tuition, food plan with 21 meals and on site training materials.
As a student of the IIQTC, you are part of a worldwide community of Facilitators and Teachers. In addition, IIQTC graduates have access to a restricted web site and a internet directory listing.
Fee does not include required texts and videos, round trip airfare and ground transportation to and from Sunrise Ranch.
Typical Daily Schedule
| | | |
| --- | --- | --- |
| From | To | Activity |
| 7:00 am | 8:00 am | Mandatory Morning Practice Session |
| 8:00 am | 9:00 am | Breakfast |
| 9:00 am | 12:00 pm | Morning Training Session |
| 12:00 pm | 3:00 pm | Lunch/Afternoon Break |
| 3:00 pm | 6:00 pm | Afternoon Training Session |
| 6:00 pm | 7:30 pm | Dinner |
| 7:30 pm | 9:30 pm | Evening Training Session |
Travel Directions:
Nestled in the foothills of the Rocky Mountains,Sunrise Ranch is about one and a half hours north of Denver and well served by ground transport out of Denver International Airport (DIA). On your arrival date, April 15, 2007, plan to arrive at Sunrise Ranch between 2:00 pm to 5:00 pm to check in, eat dinner, and be a part of the evening session at 7:00 pm. For your departure date, April 22, 2007, try to make your departing flight after 3:00 pm. The IIQTC is working to determine the best shuttle service between DIA and Sunrise Ranch and will keep you posted.
Shuttle Service Between Denver International Airport and Sunrise Ranch:

Rental Car:
Sunrise has a corporate account with Enterprise Rent-a-Car - 1-800-325-8007
For details, call Sunrise 970-679-4200 or fax 970-679-4247.
Driving Directions:
Directions to Sunrise Ranch are also available here in Adobe Reader format.
Registration:
We honor those who register early, by Wednesday, February 14, 2007, with a significant discount. In addition this event leads to teacher certification for a new career and you become a part of an innovative community of Mind/Body professionals. A $500 deposit will reserve your place until Wednesday, February 14, 2007, at which time full payment is due. Once you are registered, you will receive a packet, which will include further information about what to bring, and how to get to the retreat facility. Register now
Cancellation and Refund Policy:
The Institute of Integral Qigong and Tai Chi (IIQTC) reserves the right to cancel any program, at any time. A full refund, less a $100 processing fee, will be offered for cancellations made on or before the close of business 5:30 pm PST, Thursday March 15, 2007. No refund will be offered for cancellations after April 1, 2007, if you do not show up, or if you leave the program early.

For cancellations between March 15, 2007-April 1, 2007, a full refund less a $300 processing fee, will be offered. For cancellations after April 1, 2007, partial credit of tuition will be offered on a case by case basis ONLY due to extenuating circumstances such as serious illness, accident, death in the family, or family emergency. No refunds will be offered for lodging/meal plans under these circumstances.